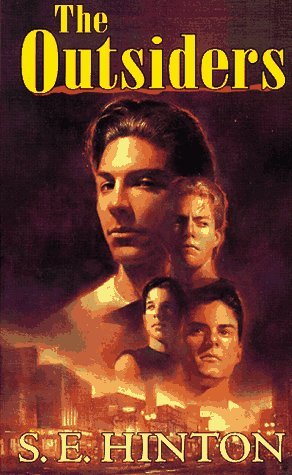 According to Ponyboy, there are two kinds of people in the world: greasers and socs. A soc (short for "social") has money, can get away with just about anything, and has an attitude longer than a limousine. A greaser, on the other hand, always lives on the outside and needs to watch his back. Ponyboy is a greaser, and he's always been proud of it, even willing to rumble against a gang of socs for the sake of his fellow greasers–until one terrible night when his friend Johnny kills a soc. The murder gets under Ponyboy's skin, causing his bifurcated world to crumble and teaching him that pain feels the same whether a soc or a greaser.
When I picked up The Outsiders for my A Classic a Month Challenge, I was not expecting to find a gorgeous masterpiece written by a once-17 year old. What I found was a spectacular work of literature with more emotion than I may have ever felt in my 18 years of life poured into it by decades of readers.
Ponyboy, the main character, uniquely tells the story of the feud between Socs and Greasers. Socs, for those of you who, for some reason, have not read the book yet, are more of the preppy jocks who like to show off their muscles and skills. Greasers are seen as more of the delinquents moving in and out of jail throughout their life. Ponyboy doesn't see the two social circles this way, however. Instead, he views everyone as essentially the same when stripped to their core. His emotions are stronger than a Greaser's should be, per se, yet he is still accepted by the tough Greasers. His point-of-view allows readers to see the story from a different perspective than if it were from one of his brother's, a different Greaser gang's, or a Soc's point-of-view. Ponyboy tells the story as it happened allowing a nearly unbiased account of the events of the story which is later explained as to how the story is being told, exactly.
What I found interesting was how quickly everything happened in the book. In the short span of a few weeks, I fell in love with the characters. At the same time, enough depth and development occurred where I felt content with the ending. (Okay, but not really… but spoilers will occur.) I lost track of time when I read this book from the initial jumping of Ponyboy in the first few pages to the final lines of the book when I just wanted to sit down, wrap myself up in my blankets, and lay there for hours with content. Everything had a purpose in the story, even Ponyboy's little tangents about the characters or events. His way of storytelling made everything better than I could have ever hoped for with The Outsiders.
I'll save the spoilers for last and instead… I'm skipping to the amazing brilliance of S.E. Hinton's words. I had no idea where the ending was going to go due to the many… many… spoilers. I did not think S.E. Hinton could redeem herself after certain… spoilers. Alas, my friends… she did. At 17 years of age, S.E. Hinton brilliantly tied together The Outsiders with a few simple words.
"When I stepped out into the bright sunlight  from the darkness of the movie house, I had only two things on my mind: Paul Newman and a ride home…"
THESE ARE THE EXACT WORDS SHE USED TO START THE BOOK, YOU GUYS! I CAN'T EVEN AT HER BRILLIANCE! Why can't I write a brilliant novel like this yet? Nothing a 17 year old does can beat what S.E. Hinton did with The Outsiders. Okay… maybe if they cure cancer or find the lost city of Atlantis… something cool like that.
I cannot believe S.E. Hinton killed off Johnny AND Dally! This is why I was prepared to be disappointed by the ending of the book. Those final words of Johnny's definitely represent the entirety of Ponyboy and Johnny's friendship. "Stay gold, Ponyboy." Nothing can beat those final words. I love how it connected to a Robert Frost poem and relates to the time in they spent in the church together representing their stronger bond.
And then the way that Dally died?? With a gun with no bullets in it?? Are you kidding me? I HAVE SO MANY EMOTIONS EVERYONE! TOO MANY!
---
---
Overall, the book is amazing and you should read it ASAP. It doesn't matter if you say you don't read classics. This book is a classic for a reason. I am 4/4 for loving every classic I have read so far this year.
Which classic book should I read next? What's your favorite classic book? What are your thoughts on The Outsiders? Let me know in the comments below!
Much love, XOXO,
~A Writer Named Charley~